Ronald Adams, SNS is a consultant for the Wild Blueberry Commission of Maine focused on education and promotion for the public school nutrition programs nationwide. Ron was a food service director in public schools and childcare for over 24 years culminating as Director of Portland Public Schools overseeing sixteen kitchens serving 5,500 meals daily. Under his leadership, Portland Schools spent approximately 35% of its food budget on local foods in 2015 including fruits, vegetables, beef, chicken, fish and value added products from regional producers. He is a member of the School Nutrition Association as a credentialed School Nutrition Specialist and is an advocate for the farm to institution movement and food security. He is a co­founder of the board at Full Plates, Full Potential an organization dedicated to eliminating student hunger in Maine. He also is a co­founder and Chief Operations Officer of the Maine Farm and Sea Cooperative.
Katie is the Food Programs Director for Healthy Acadia. She provides leadership in areas related to community food security, public health nutrition, local foods procurement, community gardening, and supporting farms and farmers' markets. Katie coordinates the Downeast Farm to School Program, providing leadership together with Washington County-based program staff to connect schools with farms across Hancock and Washington Counties, and Healthy Acadia's Food for All initiatives, working to provide lower-income citizens of all ages with access to fresh and affordable food. Contact Katie by email at katie@healthyacadia.org.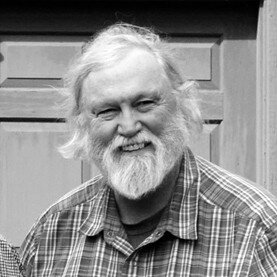 Ken grew up and worked on a 60 acre family apple orchard in the foothills of Western Maine. For 40 years, he's been involved in community organizing mostly focused on food. As a food co-op organizer, he helped start Fare Share Co-op in Norway, Maine, now celebrating its 40th year. He also worked at the Maine Federation of Cooperatives which operated Fedco Warehouse that delivered natural foods and produce across the state. His role there as newsletter publisher led to his opening Grassroots Graphics, a graphic design and print shop which he operated for 18 years. Following that, he became the director of Healthy Oxford Hills, one of 28 community health coalitions that cover the State of Maine. He's been active in the Local Foods movement for years and most recently focused on Farm to Institution efforts. He helped coordinate the Maine Farm to School Work Group, and served as Maine's rep on the Steering Committee of the Northeast Region of the National Farm to School Network and on the Leadership Team for Farm to Institution New England (FINE). For the last 7 years, he's coordinated the Maine Network of Community Food Councils. Contact Ken by email at kenmorse@mac.com.
Dr. Jennifer Obadia, PhD is the Eastern U.S. Regional Director, Healthy Food in Health Care Program for Health Care Without Harm. In this capacity she supports the New England regional HFHC team and program partners throughout the eastern US. She provides technical assistance to hospitals to help transform their food service in support of a sustainable regional food system. Dr. Obadia has served as adjunct faculty at the Friedman School of Nutrition Science and Policy since 2011. In this capacity she has taught courses on community food systems, food justice and urban agriculture. Jennifer has over ten years of experience in management of community-based education and food access programs, community-based research, and monitoring and evaluation. Dr. Obadia received her BA from New York University, MS in Conservation Biology and Sustainable Development from the University of Maryland at College Park and her doctorate in Nutrition from the Friedman School of Nutrition Science and Policy at Tufts University.